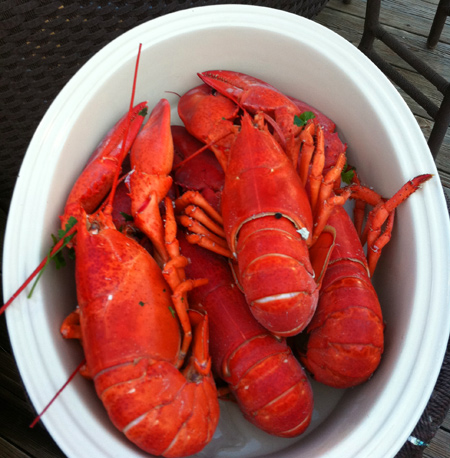 There are few things greater in this world than a nice light refreshing ale and a freshly steamed lobster.  This combination really takes summer eating to a new level. There is something about having salt on the skin from a day at the beach that makes me crave seafood and a beer. Beer can be filling and most times I stick to appetizers or snacks when drinking to keep me from getting that beached whale sensation. Lobster on the other hand is a light entrée that really makes you work for those tasty bits, leaving plenty of room to wash it all down with a refreshing beverage.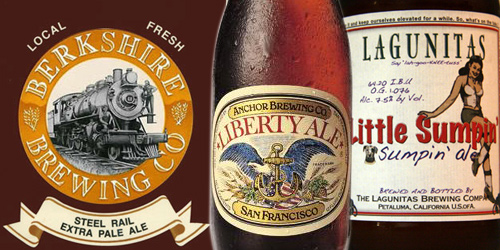 Here's how I like to enjoy lobster and beer.
Forget the cheap plastic bib, they look ridiculous and if your lucky you should already be covered in salt and seaweed, so a little bit of lobster juice isn't going to hurt anyone. A boiled lobster, a little drawn butter and maybe some corn on the cob covered in salt and butter. Keep it simple. Get yourself a nice summer beer, may I suggest Berkshire Brewing Company's Steel Rail Pale Ale or maybe an Anchor  Liberty Ale.  You want something lighter in color, a light lager will go nicely too but don't be getting that mass produced fizzy lager, get some good quality craft beer that has flavor. When you sit down to this meal I guarantee you will find complete bliss – before during and after consumption. There's also nothing like sharing this experience with friends, I like the strange silence that occurs when people gather to crack lobsters and drink beer. Then the meal is usually followed by sighs of satisfaction and usually another beer. So to recap – Beer, Lobster, butter, beer, corn, salt, beer and more butter. Perfect. Sláinte.
– Ben
Here is a short list of beers that pair well with lobster.
Feel free to add some suggestions in the comments below.
Lagunitas Little Sumpin' Sumpin Ale