After you've combed through all your local liquor stores you start to get a pretty good idea of what the beer selection is like in your area. That's why when I took my wife out to dinner to celebrate our anniversary I was pleasantly surprised to find a couple of beers on the list that I have not seen available anywhere else. The place was Costa Del Sol, a Spanish-Mediterranean restaurant in Hartford Connecticut.
When we sat at the bar before our meal there were two friendly patrons that chimed in when I inquired about the beer selection. One recommended Estrella Damm on tap. He had what looked like a nice light lager in his glass. The other fellow shared that he was drinking a dark beer from Brazil. I took his recommendation and the bartender went to his fridge to find the bottle of brew. To be honest when he first started heading to the cooler I was a little nervous that I had chosen poorly. Beer on tap is usually the way to go and having never been to this establishment before I had no idea how well they cared for their bottle selection. Sometimes when a bartender goes to the fridge you can see the layer of dust on the bottle and no matter how good the original product might have been, you are about to get a glass of old skunky funky beer. Well, that was not the case.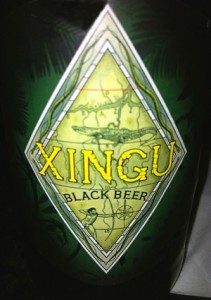 The bartender revealed a bottle of Xingu black beer. It came in a beautiful bottle with a unique, well-designed label. The beer was a delicious, malty, fresh tasting beer with a rich mouth feel full of character. Between the beautiful label and delectable taste I immediately embedded this beer into my mental archive as a winner. The label is tropical yet dark – well suited for a dark beer from Brazil. The typeface was charismatic – from a distance I thought it might be Papyrus (a way overused- font) but upon closer inspection the font used had much more aesthetic character. This beer was a great find.
This experience reminded me that the liquor stores are not the only way to find good beer. A good restaurant or pub will have unique drink selections that will go wonderfully with their cuisine. Xingu was a great warm up for the delicious paella for two. There's also something nice about pairing drinks that are culturally relevant. (I know Brazil is South American and we were having Spanish/Mediterranean but you get the idea.) There's a whole world of beer to explore, possibly right in your backyard, you just have to get out and find it. Please share with us any "finds" you might have experienced in the comments below, we'd love to hear from you. Salud!
– Ben