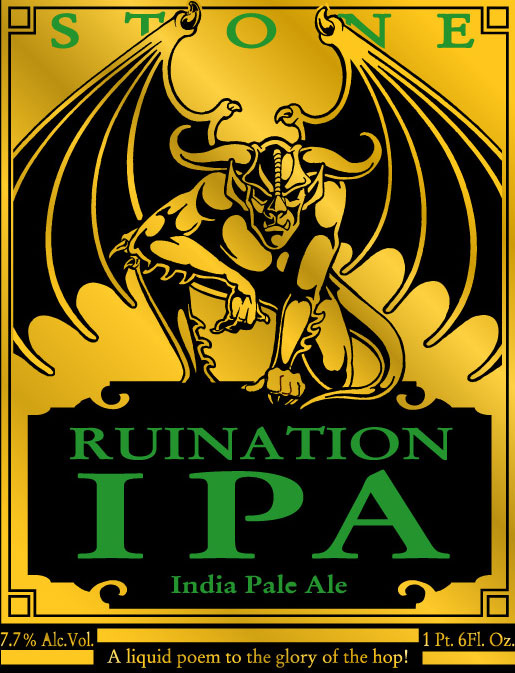 The gargoyle is a key branding element for Stone Brewing Company, it appears on all their beers. The gargoyle is badass by any measure, but when you start research the historical context of a gargoyle you can see why this creature is a perfect guardian for the bottles of Stone. Gargoyles are rooted in architecture as a design element that serves the key purpose of removing drain water from roofs and possibly warding off evil spirits. Gargoyles are made of stone, so that's a no brainer, however it is the word "gargoyle" that has other meaningful roots that I think go nicely with a bottle of beer.
From Wikipedia:
The term originates from the French gargouille, which in English most likely means "throat" or is otherwise known as the "gullet";[2] cf. Latin gurgulio, gula, gargula ("gullet" or "throat") and similar words derived from the root gar, "to swallow", which represented the gurgling sound of water (e.g., Spanish garganta, "throat"; Spanish gárgola, "gargoyle").
"Throat" "gullet" "to swallow"- Concept is king in my book and the selection of a gargoyle to be the steward of your brand is pretty brilliant to me. Now whether the designer of the Stone brand took all this into consideration or was just relying on the fact that gargoyles just kick ass in general is unknown. Regardless, the Stone Ruination bottle – with is etched on label and stark graphic treatment – is unmistakable and a beautiful work of package design. Like most well executed high-end brands, Stone shows excellent restraint in its design and finds a perfect balance of high-class and badass.